August 2007





Monthly Musings on the Garden Scene

***********************************************************
If you prefer, you can view this month's issue online where you can also subscribe if this copy has been forwarded to you by a friend.

If you are reading the text version you will need to go online to see the videos.

***********************************************************

In this issue:

- Letter from the Editor
- RHS Garden Wisley
- Container Gardening
- Garden Hygiene
- Special Offers
- Tailpiece


***********************************************************

Hi

Welcome to the August issue of Garden Ramblings. I've managed to find two new guest authors this month although I think that you will be hearing more from Colin Clifford in future issues.

Container gardening is a subject that is becoming increasingly popular as a result of publicity from horticultural shows and tv makeover programs as my first guest Rodger Cresswell explains.

My second guest is Colin Clifford who has some useful advice for gardeners suffering from aphids and other pests with his article on Garden Hygiene.

As usual there is a Special Offers section with all the bargains that I've managed to find this month.

I've given up on videos this month since I was unable to find any worth including. Instead I have added a few pictures from my recent visit to the RHS Gardens at Wisley.

Enjoy the issue.

Hugh

***********************************************************

RHS Garden Wisley



***********************************************************

Container Gardening
by Rodger Cresswell

In recent years there has been a move towards planting up more containers in the garden. At one time the only container gardening was the occasional hanging basket.

More people have transport and more disposable income that enables them to visit the big horticultural shows. To see garden designers using containerised plants on their stands or small garden plots creates the desire to copy. Garden makeover programs on television also tend to include a selection of containers.

If all you have is a small back yard that is paved, hanging baskets and containers can brighten up this area and totally transform the space if done right.

Even with a larger garden, planting up containers enables you to move them around to fill places in your borders when early bulbs or spring plants have died back, or in fact where plants have unexpectedly died off and a temporary solution is required.

The danger is that you plant up one or two containers for your small space, like the result and get bitten by the bug. Nothing wrong with that apart from the fact that containers are high maintenance. They need watering. Even in the wettest summer months you need to water. The foliage has a tendency to act like an umbrella so make sure you get the water underneath and onto the compost. These are your babies; they are relying on you for food and water. It is well worth taking the time and making the effort, you will be well rewarded. If you plant small shrubs in your containers don't forget that you will probably have to make good use of your secateurs to keep them in shape and restricted to their allocated space.

Which containers to use? Your own imagination is your limit. There has been a craze to use metal containers and, yes, in the right context they can look great. However, if they are in full sun for any part of the day they will get very hot and by nature, most plant roots go down into the soil where it is cooler. If you do use them, just make sure they are well positioned and planted appropriately.

Lastly, most of us like to get away for a week or two in the summer. Anything planted into the garden soil by and large looks after itself. Containers need watering. You will need an automatic watering system or an understanding neighbour or friendly family member to do the job.

Container gardening can be great fun and very rewarding but before you take the plunge think very carefully about the ongoing maintenance required.

About the Author

Rodger Cresswell is author of My Garden is My Space and the Diary of a Gardener http://www.mygardenismyspace.com/



***********************************************************




*************************************************************


Garden Hygiene
by Colin Clifford

The maxim "prevention is better than cure" applies particularly to gardens.

Increasingly gardeners are turning away from the chemical control of problems recognising that to rely on chemicals, EG. pesticides and fungicides can create more problems that they cure.Helpful predators may be eradicated along with the pests leading to an even worse problem.

You may be a gardener who has diligently sprayed your garden against aphids for years, and wonder why one long hot summer your garden is plagued with aphids while your neighbour's unsprayed plot is aphid free.The reason is that you have gradually wiped out the predators, who are now so obligingly policing your neighbour's unsprayed garden.

Of course, the wider global issues of pollution and the potential dangers from chemicals, as well as the matter of slowly destroying the ecosystem within your own garden. Are also a concern when thinking about how to tackle plant problems.

Keeping problems in perspective

The first thing to consider before becoming hysterical about pests and diseases, and automatically reaching for the nearest chemical spray is to get matters into perspective. Some pests may be unsightly but are actually not as hazardous to a plant as other threats, such as inclement weather.

In fact in general weather issues are a much bigger risk to plant health than individual pests.Something worth bearing in mind when you spot a single caterpillar perched on your precious cabbages.

The second biggest plant enemy is bad gardening practice. EG. overcrowding your plants leaves them prone to infection, poor hygiene is another plant hazard.If you do not remove diseased material and burn, deeply bury or compost it well, you are inviting further plant troubles.

This gives you some idea of the responsibility you have as a gardener.Your aim should be to maintain plant health, rather than allow problems to occur and get out of hand.Then curse the pests who are in fact way down in the ranks of plant difficulties.

Minimising problems

Keeping your garden healthy by careful and consistent adherence to gardening basics will go an enormous way towards preventing pests and disease from overwhelming your plants.With the huge variety of plants on offer, it makes sense firstly to choose healthy looking specimens of disease resistant strains and plant them appropriately.

A plant grown in the particular type of soil it needs and where it can receive the amount of light it requires.Has much more of a chance of surviving without problems than a plant grown without respect for its natural demands.Take car to provide the appropriate level of water, remembering that too much can be just as injurious as too little.

Spacing is an important consideration, plants grown close together will compete for nutrients and congested, humid conditions will encourage fungal disease. Follow the guidelines for optimum spacing that appear on individual plant labels.

Garden hygiene is a factor often overlooked as being of serious concern in preventing problems.After all muck is muck at least visually.However it is all too easy to transfer disease through poor garden hygiene,EG. by planting in uncleaned pots which may carry disease spores, or by propogating using a knife that has not been sterilised.

----------------------------------------------------------
Want to find that pefect Garden Container Planter or Pot for your planting arrangements then visit http://www.mygardencenteronline.com . Also while your there why not checkout our full range of plants and seeds.



********************************************************

Special Offers

August is a rather in between month so far as bargains go, but there are still some reductions to be found. At Gardener's Supply Company
they are in the middle of their Hot Summer Sale with up to 63% off garden and landscaping supplies as well as some items for the home. They have just added another 80 items so this is well worth a second look.
Nothing special at Dutch Gardens
this month, but there are some Bargain Bags in the Collections section.
Nature Hills Nursery are offering a 50% reduction on over 30 popular plants including Burning Bush Fireball and two varieties of Butterfly Bush. There's also the Texas Scarlet Quince and three varieties of Hibiscus. Buy your fall bulbs now and you'll save 25%.


***********************************************************

Tailpiece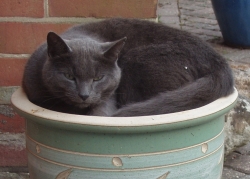 Please feel free to pass on this newsletter to your gardening friends. Do let me have your feedback and suggestions to: [email protected]

That's all until next month but in the meantime you can always look at my Blog Garden Supplies News